Outlier - Malaika Kegode
We asked poet Malaika Kegode about how she, the members of the band Jakabol and director Jenny Davies connected with Ferment, and the process of creating their gig-theatre show Outlier.
How did you start engaging with Ferment? What was that process like? 
Jakabol and I had been working together for a year or so on individual songs and had decided to try and write a show. We booked a gig at Tobacco Factory Theatres to showcase the work we had done together so far and invited anyone we felt might be interested – this included Ferment. After the show, Ferment invited us for a meeting at Bristol Old Vic and expressed interest in helping bring our show to life through the New Work Department. This was a really exciting moment for all of us – while Marietta and Jenny both had professional theatre experience, the rest of the band and I were new to theatre-making, so this initial interest meant a lot to us. To me as a writer especially, it felt like a massive step up in my practice. 
Ferment supported us from the original scratch performance of Outlier as part of their 2020 season right through until the fully-realised version of the show on the main stage at BOV. The process felt very nourishing and easy, they made us feel like we belonged in the building, and it always felt as though they were fighting our corner. It felt like a luxury to be given rehearsal time and space. 
Most of us are used to either having to pay a lot to hire practice rooms, or having to make do with space in people's houses etc. Having proper space, privacy and time was useful – especially with a show like ours that deals with weighty subject matter that impacted all of us in different ways. 
What stage was your work at when you started collaborating with Ferment? 
We were right at the very beginning of our journey with the show when we had our first meeting with Ferment in August 2019 – I'd written one or two pieces that were to become scenes but that was about it. 
Buoyed by our initial meeting and the offer of support from Ferment, I got to work on the script, and by the time our rehearsal period started (Autumn 2019), I had written the first draft of the show. 
At this point, the band were starting completely from scratch with the music because I'd been working separately to get the writing done.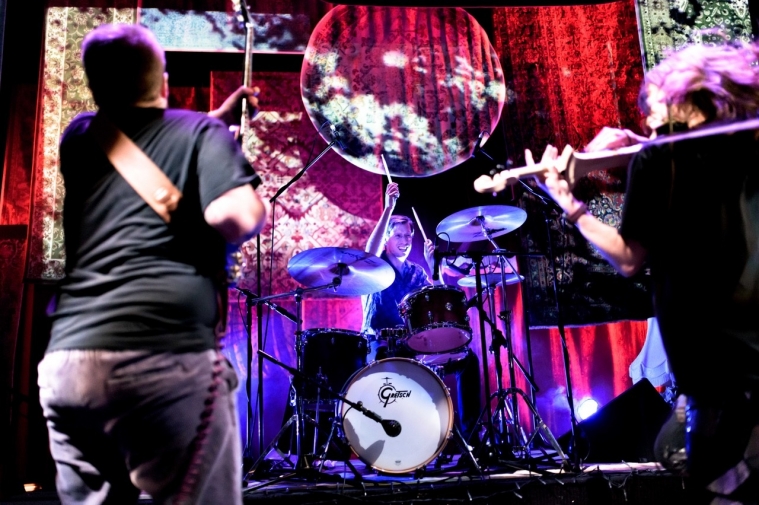 How would you describe the process of working with us? 
Validating and encouraging – Ferment treats you as professional artists, even if you are right at the beginning of your journey. This makes the process feel collaborative, supportive, and productive.  
The initial process is very open and freeing – there's a sense that it's truly a time to explore and embrace different ideas. Ferment's presence felt kind of like a really great landlord (!) – they don't intrude or insist that you do anything in particular, but if you need help, advice or something fixed they get on it straight away!
Their presence as a guardian means that when they do get into the rehearsal room with you to see how things are going, you feel really proud to show them the work that they helped to facilitate.
Overall, my experience of working with Ferment has been great. It's a process that encourages hard work while also prioritising space to experiment and care for yourself and your practice. This balance can be difficult to achieve as an artist sometimes, so working with Ferment ensures your practice is protected.
What did you get from us? 
In short: financial support, artistic support and producing support which then led to a co-production! 
A huge amount of help, understanding and creative freedom. Ferment made Outlier possible, they listened to our hopes of up-scaling Outlier and believed in the project and were a real advocate (along with our fantastic producer Liz Counsell). Now Outlier will return to Bristol Old Vic in the main house in September 2022 and will hopefully go on to tour in 2023, this would not have been possible without Ferment. 
What do you think we got from you? 
A relationship with artists that live locally. A truly South-west story told in both the Weston Studio and the Theatre.  From working with Jakabol, a connection to Bristol's DIY music scene. 
Also, Outlier was a piece of multidisciplinary theatre that seemed to encourage people into the building that might not typically feel theatre is for them. For many audience members, Outlier was their first visit to Bristol Old Vic. 
What do you think other artists should know about Ferment's work that might not be obvious? 
The ongoing support is more than just financial help. It's a commitment to artists that goes beyond the building itself and is dedicated to artist development in the way that artists want and need it.  
The team at Ferment are approachable, open, and transparent. They want to hear from artists and they want to see local artists' work. Theatre is a broad church and the folks at Bristol Ferment are up for engaging with all of it.
--