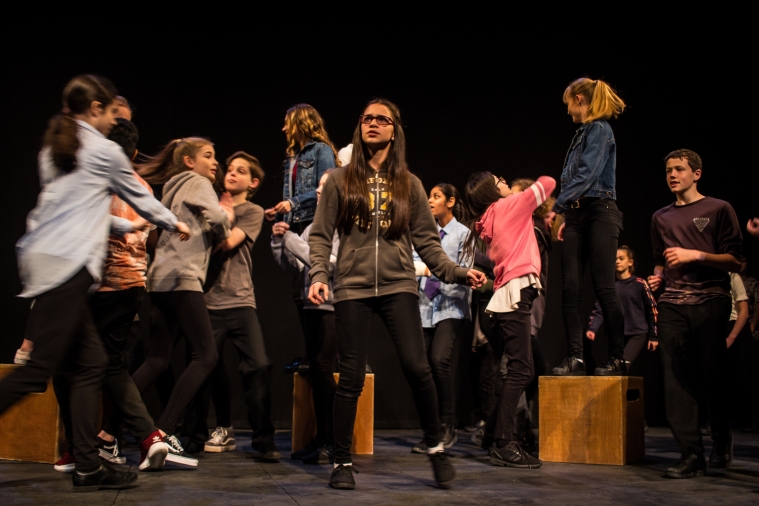 Image credit: Chelsey Cliff
Young Company City is a project which involves Bristol Old Vic practitioners delivering free weekly drama sessions to schools and community groups across Bristol. Young Company City aims to reach young people who have never been to Bristol Old Vic before or engaged in theatre or drama. This project will be delivered annually, and we will aim to reach a minimum of eight groups each year.
---
Year One 
In its first year (2021), Bristol Old Vic and Bristol City Council worked together to reach young people across Bristol and to explore how they felt about their city. Bringing the Bristol City Council's Belonging strategy to life, this project enabled young people to discuss, explore, communicate and create, using Belonging as a stimulus. 
Between March and July 2021, a series of workshops were delivered with young people in schools, community spaces and at Bristol Old Vic. The sessions gave the young people an introduction to theatre making, devising, collaborating, and they worked towards a sharing at the end of the term.
'Belonging in Bristol' is a film made alongside the workshops, to document the process and to reach a wider audience.
Bristol Met Academy
Care leavers
City Academy 
Merchants' Academy
Orchard School
Spark Theatre Makers from City of Bristol College
Stomping Ground
St Paul's Adventure Playground 
Trinity Academy
---
Year Two
This year, schools and community groups involved in YCC are working towards a performance at Bristol Old Vic in July. The stimulus for the weekly drama sessions is Wonder Boy, a new play written by Ross Willis and directed by Sally Cookson, which premiered at Bristol Old Vic in March 2022. The groups have been looking at the themes of friendship, superheroes, bullying and communication which will inform their devised pieces, performed on the Main Stage on Friday 8th July.
This year, we are working with: 
Briarwood School 
City Academy
Hartcliffe and Withywood
Knowle DGE
Merchants' Academy
Orchard School
Somali Youth Group in Association with St George's
Spark Theatre Makers from City of Bristol College
St Paul's Adventure Playground 
Trinity Academy
---