Explore Under a Cardboard Sea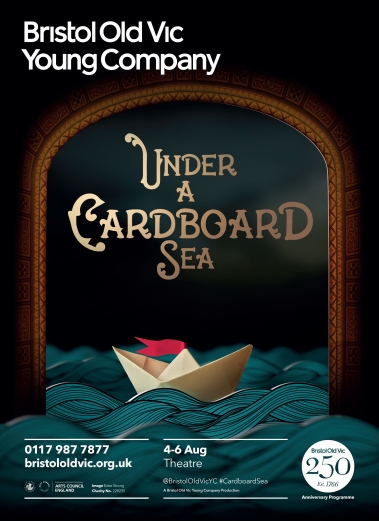 A word from the directors
In celebration of Bristol Old Vic's 250th birthday, we began the process by looking back at the history of theatre and, in particular, the children who have worked in the industry. From this collection of stories, we found a narrative and characters that could only have come from within this beautiful building and the creative young minds that inhabit it. Throughout the devising process and into rehearsals the Young Company have shown a commitment and an intelligence beyond their years and have managed to create a show that belongs as much to each and every one of the cast as much as it does to the creative team.
Under a Cardboard Sea is a dynamic and engaging story that is imbued with the energy and imagination we have come to expect from this amazing group of young performers. It's been hard work, it's been hot, it's been rewarding, sometimes frustrating and exhausting but always inspiring!
Every time we work with the Young Company we are impressed with their creativity, their determination and their talent, particularly with a show of this size. To have 100 young people working together on a devised piece of theatre is no mean feat but the cast have handled it with professionalism, kindness and a glorious sense of adventure!
Lisa Gregan and Matt Grinter
Some provocations
The following are some provocations inspired by Under a Cardboard Sea. If you do create a response to this show, we'd love to see what you make. You can email them to us here, or tag us on Twitter (@BristolOldVic) or Instagram (@bristololdvic1766). Or, feel free not to share and to just be creative for yourself. 
Create a scene from a fictional show which child actors might have appeared in. You can do this in writing, drawing or acting it out.
If you could create a Young Company show with 100 actors of all ages in it, what would that show be? Is it a well known story, or is it a new idea? Write down your idea alongside some images which have inspired you. 
Design an old-fashioned ticket for the Theatre Royal of the past.