Programmes for Schools
Our schools programme is flexible and able to respond to the current changing landscape.

It includes a range of projects, which can be adapted to a particular school's requirements. Some of our programmes are delivered in partnership with other specialist organisations.
---
Bristol Old Vic is an Arts Award supporter.
Arts Award is a range of unique qualifications that supports anyone aged up to 25 to grow as artists and arts leaders, inspiring them to connect with and take part in the wider arts world through taking challenges in various art forms.
Offered at five different levels, young people get to:
Discover the enjoyment of creating and participating in the arts
Develop their creativity and leadership skills
Learn new skills and share them with others
Work with or experience working with creative arts professionals
Gain experience and knowledge to progress into further education and employment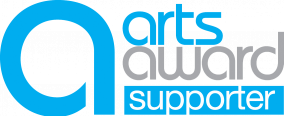 ---
Bristol Old Vic is a WORKS pledge supporter.
WORKS is part of the Bristol Learning City Partnership and is building a unique collaboration between employers, learning providers and local communities to develop a skilled, local workforce.
Building on existing good practice, WORKS sets out to:
Engage – Employers and learning providers to co-create opportunities to equip people with the skills and qualities they need in the workplace
Inspire – Young people will participate and gain insights into the wide range of career opportunities available
Employ – Employers will recruit skilled people who are ready to meet business needs.
---
Bristol Old Vic is an Artsmark supporter.
Artsmark is the creative quality standard for schools and education settings, awarded by Arts Council England, recognising their commitment to high quality arts and cultural education.
By supporting Artsmark settings, we're helping put the arts at the heart of education, inspiring young people to create, experience and participate in high quality arts and culture.
Find out more about Artsmark at www.artsmark.org.uk .  
To find out how Bristol Old Vic can support your Artsmark journey, contact Harriet Wilson at Harriet.Wilson@bristololdvic.org.uk. 
Working with students from Years 7 and 8 from the seven secondary schools in the south of the city, Unlocking Potential seeks to increase the speaking and listening skills of a select group of children, whilst also improving their self-confidence.

With activities covering theatre sessions here at Bristol Old Vic, video-blogging at the Watershed centre, and fire-lighting lessons at Goblin Combe Outdoor Education Centre, this programme is diverse, engaging and full of opportunities. 
Future Quest
We are working with students in Years 9 to 13 from schools and colleges across Bristol to provide them with knowledge of, and develop skills important for, university. Participants will have the opportunity to visit a variety of universities, take part in subject specific events, improve their speaking and listening skills and have a mentor to help them with their studies and future choices. Find out more.
Big Work Experience Week – July 2020
Big Work Experience Week enables Year 10 students across Bristol to find out everything there is to know about working in a regional theatre and gain a Bronze Arts Award. Applications open in Autumn.
Thank you to our generous funders who make our work possible! Help us continue our work with children, young people, and communities in and around Bristol: