LGBT History Month | Charlotte Saunders Cushman
21 Feb 2018
Alongside our ongoing HLF heritage project, we have been investigating Bristol Old Vic's dramas, both on and off stage, by seeking out archival evidence of individuals with diverse identities and bodies. LGBT History month felt like the ideal time to draw back the curtain and showcase some of our Theatre's lesser known history…
Like Sarah Siddons, Charlotte Saunders Cushman (23 Jul 1816 – 18 Feb 1876) portrayed Hamlet onstage. Unlike Siddons, Cushman didn't have a husband and children; nor did she limit her performances of masculinity to one character. Musically gifted but with strong features and a height of five feet six inches, Cushman's androgyny suited her portrayal of male characters. She played over 30 male roles in her lifetime, including Hamlet, Romeo and Cardinal Wolsey.
Cushman has numerous links to the Theatre Royal Bristol, now known as Bristol Old Vic. In an American production of Macbeth in 1843 she appeared alongside William Charles Macready: once manager of the Theatre, son of Theatre manager William McCready, and relation of manageress Sarah McCready who ran the Theatre for over 20 years. Posters and playbills from the University of Bristol's Theatre Collection show that Cushman performed here on several occasions, including when she played Romeo with her sister as Juliet at the Theatre in 1846 (figure 2). 
Cushman's rejection of heteronormativity is evident both in her work and personal life. The term 'lesbian' hadn't been invented and, as nineteenth-century society deemed women incapable of sexual desire, Cushman is recorded as having "strong female friendships" rather than romantic relationships with women. Nevertheless, Cushman and Rosalie Sully, daughter of artist Thomas Sully, were such good friends that Cushman was regarded as part of the family. They wrote passionate letters to one another, and in July 1844 Cushman gave Rosalie a ring and noted "R Saturday, July 6, 'married'" in her diary. Cushman had to leave for a London tour, but the pair agreed to reunite when she returned. The tour lasted several years, in which time Cushman began a relationship with another actress. Rosalie is said to have been distraught, and died not long after. Hearing the news, Cushman suffered a mental collapse and cancelled shows to rest.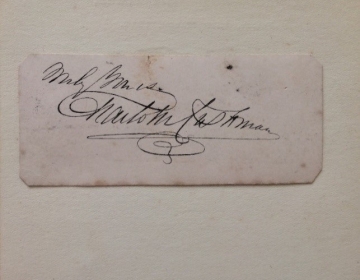 In 1848 Cushman met journalist, writer and actress Matilda Hayes. Romance blossomed, and that year they appeared together as Romeo and Juliet at the Theatre Royal, Bristol (see figure 4). The couple were inseparable for ten years, moving to Europe and dressing alike. Settling in Rome they created an American expatriate community of artists and writers, many of whom would also probably identify as lesbians today.
Hayes left Cushman in 1854, and Cushman began a relationship with sculptor Emma Stebbins soon after. A few months later Cushman returned to America on tour and met actress Emma Crow. Though she referred to the eighteen-year old as her 'little lover', Cushman claimed she was still devoted to Stebbins and did return to her in Italy after the tour.
Cushman was diagnosed with breast cancer in 1869, but lived fairly comfortably and even performed in a farewell tour around the US. Stebbins halted her sculpting to care for Cushman, who died in 1876 of pneumonia. 
Through her refusal to follow the traditional career of a nineteenth-century actress, her obvious disinterest in sexual or romantic relationships with men, and her experimentation with gender in performance, Cushman provides incontestable proof that non-heteronormative identities are not a modern fad, and have existed throughout history. We at the Bristol Old Vic are proud to be associated with such courageous individuals, and are excited to discover and celebrate more LGBT histories in our archives.