Bristol Mayor visits Bristol Old Vic redevelopment project
13 Feb 2018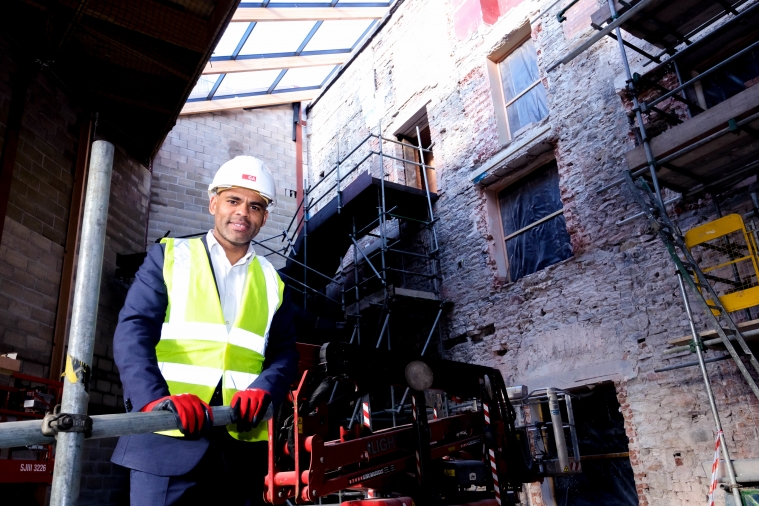 Bristol Mayor, Marvin Rees, today visited Bristol Old Vic's major redevelopment project, and reasserted his commitment to working in partnership with the theatre towards the shared ambition of narrowing the social and economic divisions people face.
During a tour of the building site, which will soon be transformed into a bright, open front-of-house space, complete with bar & kitchen, Marvin Rees commented on the transformation taking place, calling the work so far; "beautiful".
He was also shown the new Coopers' Hall events space, a key part of Bristol Old Vic's new commercial business. This historic building, originally built in 1744 as a Georgian banqueting hall, had spent the last 40 years of its life as a grand staircase and entrance to the theatre. It is now being restored to its former glory, complete with high ceilings, dramatic windows and the famous Bristol Old Vic chandeliers. This light and beautifully proportioned space will be available for private and business hire, enabling the theatre to become more financially self-sufficient.
The theatre is also opening up its unique history to the public, transforming into a major heritage and tourism destination. Visitors will be able to discover more about the extraordinary history of theatre on this site, through state-of-the-art interactive exhibitions, workshops and tours.
Marvin Rees went on to call on businesses and individuals to consider what they can do to engage with the cultural sector, to explore opportunities to grow our communities.
The Mayor said: "The cultural sector plays a huge role in connecting communities with opportunities to grow and develop. Those interested in being part of our journey should make themselves known; have a conversation, write an email, share a donation with these groups and be part of combating inequality and breaking down the barriers to opportunity."
Emma Stenning said: "We were pleased to be able to show The Mayor the huge transformation that is happening to Bristol Old Vic. The building work is literally breaking down the physical barriers between the theatre and the city, in the same way that our work in communities has been breaking down barriers to access to the arts for many years.
Bristol Old Vic's future survival is dependent, in part, on the new front-of-house spaces generating commercial business, through events, weddings, tourism and our bar & kitchen offer. But our work is more than the events and productions that take place within these walls. Our hugely important outreach and education work is a key part of creating a theatre fit for the next 250 years, and is a crucial way in which we open up participation in the arts for people from all corners of Bristol, not just the fortunate few.
We are committed to working with The Mayor, the City Council, Bristol businesses and organisations to generate new income for the future of the theatre and new creative opportunities within their own sectors. We look forward to forming exciting new partnerships with all those who understand the value of creativity to our society."
Bristol Old Vic's redevelopment project is due to be completed by September 2018
-ENDS-
Download press images here
Bristol Old Vic is the longest continuously running theatre in the UK, and celebrated its 250th anniversary in 2016. The historic playhouse aims to inspire audiences with its own original productions, both at home and on tour, whilst nurturing the next generation of artists, whether that be through their 350-strong Young Company, their many outreach and education projects or their trailblazing artist development programme, Bristol Ferment.
They use their funding to support experiment and innovation, to allow access to their programme for people who would not otherwise encounter it, or be able to afford it, and to keep their extraordinary heritage alive and animated.
On 24 Sep 2018, Bristol Old Vic completed its 2-year multi-million pound redevelopment project, which transformed its front of house space into a warm and welcoming public building for all of Bristol to enjoy, created a new studio theatre and opened up its unique theatrical heritage to the public for the first time.