Bristol Old Vic unveils major rebrand in its Year of Change
15 Feb 2018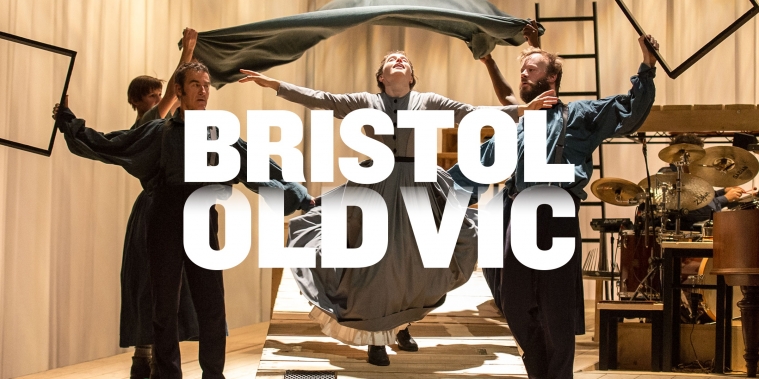 On the eve of the first production in Bristol Old Vic's Year of Change season, the theatre launches a new brand.
As Michael Boyd's new and ground-breaking version of The Cherry Orchard nears its opening, Bristol Old Vic celebrates this first production in the Year of Change programme by unveiling a new brand and website fit for its future.
At a moment when the world is experiencing unprecedented social, political and environmental upheaval, the theatre is exploring these ideas through a series of major productions looking at change in all its forms. The programme begins with The Cherry Orchard, Chekhov's masterpiece, which bridges the divide between the longing to hold onto what is familiar, and the irresistible lure of the new. It opens on 1 March for a five week run, before transferring to the Royal Exchange Theatre, Manchester.
Further highlights include the world premiere of Sally Cookson's A Monster Calls, David Greig's adaptation of Touching the Void, a fantastical Twelfth Night and the ultimate comedy of human change, A Christmas Carol.  Alongside these, Bristol Old Vic is also collaborating with The Bristol Post, Ujima and other arts organisations across the city in a re-examination of Bristol's relationship with the Transatlantic Slave Trade which will culminate in a new production The Meaning of Zong, workshopped in the Autumn of 2018 and premiering in 2019.
2018 also marks huge change for Bristol Old Vic's organisation as the theatre completes a major redevelopment project, this autumn. Since the 18th century, the theatre has been hidden from view and for the last 40 years could only be accessed through an imposing and very grand Georgian Hall. Finally, Bristol Old Vic can fling opens its new front doors and reconnect with its city once again. 
Chief Executive, Emma Stenning said: "Bristol Old Vic is in the middle of a huge transformation. We are continuing to develop as a world-class theatre, alongside developing into a major heritage destination and commercial business able to provide beautiful events spaces for hire. We have had the previous logo since before Tom Morris and I arrived in 2009 so, at a moment of huge change to the organisation, it was fitting to mark this milestone through a new visual change too. We are absolutely thrilled by the finished product."
Artistic Director, Tom Morris continued: "As we knock down the walls which have hidden the most beautiful theatre in the country for 250 years, our aim is to welcome people from every part of the city to explore it, create work for it and share in its rich history and programme.  Throughout its long and turbulent life, this unique theatre has time and again been rescued and restored by the people of Bristol. It is above all, a theatre that belongs to Bristol and its people. The entire aim of the refurbishment has been to celebrate that relationship and better share the theatre with present and future generations of Bristolians. The new brand is designed to make that invitation loud and clear, in a welcoming, bold and truly Bristolian style."
A new Bristol Old Vic brand
The brand has been designed by Eureka! – a design consultancy specialising in the arts. Directors Scott Doran and Ian Vickers spent the last year getting to know Bristol Old Vic, hearing personal stories from its team and audiences, and discovering the unique relationship the theatre has with its city.  As part of the branding project, Eureka! were also delighted to gain access to the theatre's  extensive archives, and found great inspiration from exploring many of the fabulous old letterpress fonts, playbills and posters going back hundreds of years, as well as reflecting on the theatre's future as a cultural powerhouse for the region and a hub for creativity by artists and Bristol communities alike.
In conversation with Ian Vickers and Scott Doran of Eureka!… 
"At the heart of Bristol Old Vic is Bristol. It sounds obvious, but seriously it made a profound impression on us. Everyone we met was so proud of the theatre, its history and achievements. Kind of what you might expect, but everybody, to a person, placed Bristol as the driving force behind the success, aspirations and values of the theatre. Everyone was immensely proud of the city and the theatre's unique place within Bristol, not only historically but as a key cultural player.

At the heart of the new identity, therefore is, Bristol itself. The brand is bold and playful, dynamic and welcoming. It celebrates the connections between all facets of Bristol Old Vic's rich new offer – theatre, education, heritage, cafe, new studio theatre, events space. But it also reflects a revitalised Bristol Old Vic, and a new exciting stage in its history. It is designed to speak to the city as a whole, to welcome not only theatre-goers, but the great Bristolian public, back to their theatre. We are honoured to play our part in creating a brand which will provide a clear and coherent voice for a theatre with unrivalled history but one which is in the spirit of Bristol itself, embracing change, unafraid to take risks, reinvent itself. A theatre with renewed confidence and reconnecting with the city and the wider Bristolian audience."
A new website

With so many new facets to Bristol Old Vic's business beginning this autumn, it was also important to have a website that could reflect and support this offer with a sleek, user-friendly design and faster online booking. Web designers Supercool have created this new site, which also begins to launch from today, with full optimisation from Friday 16 February. This site will enable visitors to find out about the huge range of opportunities available at Bristol Old Vic; everything from a packed season of world-class theatre, both in the historic Georgian Theatre and the new Studio (opening late 2018), to heritage talks and tours exploring the theatre's fascinating history. People can also book their public and private events in the newly refurbished Coopers' Hall or simply a meal or drink in the new '1766' Bar & Kitchen (opening this autumn).
-ENDS-

Eureka!, established in 1994, is a small, award-winning design studio based in London, creating effective branding for print and digital media for a wide range of clients throughout the UK and across all business sectors – from arts organisations, charities and public sector bodies, to professional services and global businesses.
Our clients include: BBC, British Film Institute, Barbican, Roundhouse, Glasgow School of Art, Almeida Theatre, Kingston University, DeBeers Group, Sadler's Wells, LAMDA, Cheek By Jowl, Unicorn Theatre, Value Retail Academy, TUC, Young Vic. 
Supercool are specialists in crafting brands, websites and digital strategies that work better for people – through good, honest design.

We work with world-class arts and cultural organisations, including Scottish Ballet, Chichester Festival Theatre, Matthew Bourne's New Adventures – and Bristol Old Vic.
Bristol Old Vic is the longest continuously running theatre in the UK, and celebrated its 250th anniversary in 2016. Under Artistic Director Tom Morris and Chief Executive Emma Stenning, the historic playhouse aims to inspire audiences with its own original productions, both at home and on tour, whilst nurturing the next generation of artists, whether that be through their 350-strong Young Company, their many outreach and education projects or their trailblazing artist development programme, Bristol Ferment.
They use their funding to support experiment and innovation, to allow access to their programme for people who would not otherwise encounter it, or be able to afford it, and to keep their extraordinary heritage alive and animated.
Since 2016, while the theatre continues to present work, it has simultaneously been undergoing a multi-million pound redevelopment project to transform its front of house space into a warm and welcoming public building for all of Bristol to enjoy, create a new studio theatre and open up its unique theatrical heritage to the public for the first time. The project is due to be completed in autumn 2018