Nancy Medina Announces her first season for Bristol Old Vic
18 Apr 2023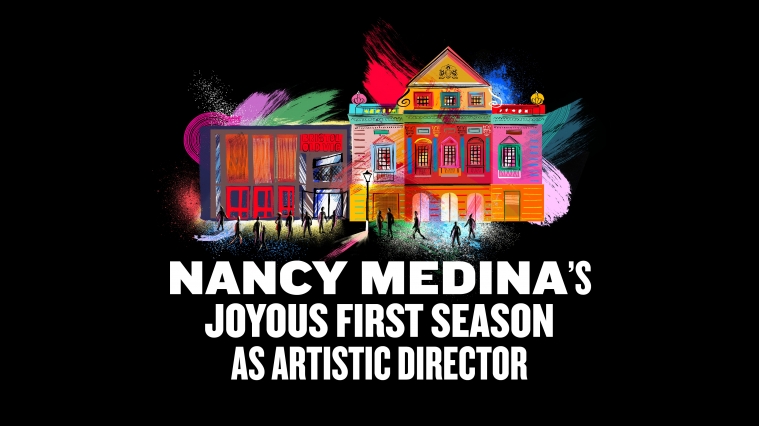 New Artistic Director Nancy Medina announces inaugural season at Bristol Old Vic will be joyful celebration of the culture that is all of us.

Communities to form a central theme of Nancy Medina's tenure with engagement projects embedded into each major production
Nancy to direct Choir Boy by Oscar-winning Tarell Alvin McCraney as her first production for Bristol Old Vic
Music, Joy and Resilience run through the programme
Collaborations with tiata fahodzi, Antic Productions, Little Bulb, Fiery Angel, ETT and new Bristol company, Otic
Tickets will go on sale to priority bookers from Thu 20 Apr (10am) and on General Sale Thu 27 Apr (10am).
Nancy Medina today unveiled her joyous first season as Artistic Director of Bristol Old Vic, resetting the theatre's civic role in the city and heralding a season of joy, resilience and community which celebrates the culture in us all.
She said: "The programme of work for Autumn/Winter is my first invitation to Bristol to join me as we work out together what this theatre means to its city and beyond. Charlotte Geeves, our Executive Director, and I hope it reflects our values and our team's intention to create spaces and opportunities for meaningful and celebratory connection."
Nancy called on the city, the creative community of the UK, and audiences – present and future – to take ownership of Bristol Old Vic, heralding in a new era where the focus moves on from the successful redevelopment of this unique building, towards the people who make it sing with possibilities.
At a time where the world faces a racial reckoning, a climate emergency and a society that has become more polarised and intolerant, she introduced a season which demonstrates the power and joy in meeting challenges not as individuals, but together.
Nancy will direct Choir Boy by Academy Award-winning writer Tarell Alvin McCraney (Moonlight) as her first production for Bristol Old Vic (12 Oct–11 Nov). This Tony-nominated hit play follows Pharus, a young queer black student, leading the legendary gospel choir at his elite all-boys prep school in America. This tender coming-of-age story is threaded throughout with soul-stirring a cappella gospel hymns and spirituals, and rejoices in all that it means to march to your own drum. Nancy described Tarell as "one of the greatest playwrights of our time" and is thrilled to be able to bring this tender, intimate and uplifting story of identity and community to Bristol Old Vic's stage.  
Speaking today Tarell said: "I wrote this play in 2009 as a reminder of how far we'd come, but it serves today, still, as an immediate lament on how very far we have to go, and Nancy's keen eye for everyday justice and sure hand for intoxicating productions will serve us a powerful gathering around this necessary story."
 
Choir Boy spearheads a season woven through with music and joy, beginning with the runaway Edinburgh hit Kathy and Stella Solve a Murder! (13–30 Sep), a hilarious whodunnit from the Olivier Award-winning team behind Fleabag, which set the Edinburgh Fringe alight in 2022 and is now touring the UK in an expanded new version.
The Weston Studio's autumn programme begins with cheeky little brown, a major new co-production by Bristol Old Vic and tiata fahodzi, demonstrating Nancy's ambition for the Studio to be a space where work can also be given an extended run to reach a wider audience. The play is written by award-winning playwright and performer Nkenna Akunna (21 Sep–14 Oct), and follows Lady, who is in the middle of crashing (and ruining) her best friend Gemma's birthday party. cheeky little brown is a failed night out, a musical, a show about heartbreak and the shifting realities of the city they call home. It is directed by tiata fahodzi's Artistic Director, Chinonyerem Odimba who is welcomed back to Bristol Old Vic after her play Princess and the Hustler premiered here in 2019.
 "It is so special for tiata fahodzi and me as an artist, to be returning to Bristol Old Vic with such a brilliantly exciting story so beautifully written by Nkenna Akunna. cheeky little brown is a contemporary story that has heart, humour and a humanity at its very centre. I can't wait for audiences in Bristol to meet Lady!" Chinonyerem Odimba
For October half term, The Weston Studio also presents The Colour of Dinosaurs (20–28 Oct), a rip-roaring prehistoric science pop gig (featuring five musicians and a palaeontologist) that explores, quite literally, the colour of dinosaurs and is made for curious humans of all ages. Now the recipient of an Unlimited and Polka Theatre Partnership Commission, this production was supported as part of Bristol Old Vic Ferment's development and commissioning initiative. This will be the first opportunity to catch a studio-sized version of the show in Bristol before it expands and premieres with Polka. The Colour of Dinosaurs has been created by Otic & Lloyd Coleman, a Bristol-based collective of musicians, makers and performers who make playful shows inspired by science, curiosity and big ideas.  
This winter, the festive season wouldn't be complete without a Bristol Old Vic spectacular. From 23 Nov–6 Jan, the Theatre will be lit up with a modern reimagining of Arabian Nights from writer Sonali Bhattacharyya (Chasing Hares – Young Vic; Two Billion Beats – Orange Tree Theatre).
 
In Arabian Nights, Schere has the quickest wits, greatest courage, and most marvellous stories. She also plans to liberate every young woman in the Kingdom from the greedy and tyrannical King – all through the power of her storytelling. But can she really do this alone? Or will she need to first turn to her annoying younger sister? Bringing the whole Kingdom together, the sisters discover the power in finding their collective voice.
 
Arabian Nights will be directed by award-winning Blanche McIntyre whose credits span Shakespeare's Globe, the National Theatre and many more. We're thrilled to welcome Blanche and Sonali to Bristol Old Vic for the first time as they create a timeless story of magic, unity and hope.
"I'm so excited to be adapting and re-imagining Arabian Nights for BOV! The story places the storyteller Schere herself centre stage, as she tries to take on the despotic king with the power of her imagination. However, she finds there's more power – and cliffhangers – in working together. Expect swashbuckling adventure, catchy tunes and festive wonder for the whole family." Sonali Bhattacharyya
For younger families, The Weston Studio sees the welcome return of the glorious Olivier Award-winning Little Bulb theatre company (Antarctica; The Night Autumn Turned to Winter) with their latest theatrical love letter to nature: Four Seasons (1 Dec–7 Jan). Expect puppetry, dance, and clowning fun as they celebrate the wonder and weirdness of nature and our place in it.  
"We have worked with Bristol Old Vic for many years developing new work for families and throughout the creative process for Four Seasons, we have engaged with several schools across Bristol and children from BOV's Young Company, so it is really special to be back in the Studio with this piece of work. Celebrating and spotlighting the wonders of the natural world is really important to us and we are delighting in sharing our passion and enthusiasm for music with younger audiences". Fiona Baxter, Little Bulb – Producer
Taking us into the new year is a collaboration between Bristol Old Vic, Antic Productions, Longshot and Playtone for the World Premiere of brand-new musical Starter for Ten, adapted from the hilarious novel by best-selling author David Nicholls and the cult 2006 film. The year is 1985 and Brian is starting his first year at Bristol University, with the aim to fulfil his lifelong dream of competing on University Challenge. This is a hilarious, coming-of-age story about love, belonging and the all-important difference between knowledge and wisdom. Starter for Ten will have a book and lyrics co-written by Emma Hall and Charlie Parham, Artistic Directors of Antic Productions. The 80s-inspired original score and lyrics will be composed by queer, pop-punk composers Tom Rasmussen (who recently supported Self Esteem on UK tour with their debut album, Body Building) and Hatty Carman. The production will be directed by Charlie Parham, with set and costume design by Olivier-award nominee Frankie Bradshaw, lighting design by Jai Morjaria and casting by Will Burton for GBC.
Writer David Nicholls said: "Nearly 20 years after publication, it's such a thrill that Brian's misadventures are being brought to the stage, and by such a brilliant, dynamic team." Emma Hall continued: "To be presenting the world premiere of a Bristol-based story at Bristol Old Vic is sincerely a dream come true. We cannot wait to bring this electrifying mix of general knowledge and anthemic, 80s-inspired music to audiences."
Speaking at the launch, Nancy said:
"Each of our productions is about the power in belonging – isolated groups trying to find meaning and purpose – whether that is Kathy and Stella who have few opportunities in life, but make something special together, or Choir Boy's young black boys discovering how to be men in a world that creates more barriers than opportunity with Pharus leading the way in how to be your authentic self; or Starter for Ten's Brian – who is working out if where he comes from is good enough. All full of music and resilience through joy and connectedness.
Characters believe they will find success through their individual action and discover they need to be part of a collective to truly triumph. This season of plays show that we can't do things alone – we are stronger together. That sense of working together, joy and optimism feeds into our ethos of transforming all of our spaces. We can't do any of this without you. Theatre is for everyone, we are all culture, we are all art."
Bristol Old Vic are also delighted to present inspiring work from some of the best and brightest theatre companies and artists. In the Theatre, Frantic Assembly's Metamorphosis, adapted by Lemn Sissay from Franz Kafka's shocking tale of cruelty and kindness, arrives from 10–20 Jan, while ETT's visceral and contemporary new production of Macbeth directed by Richard Twyman, takes to the stage (25 Jan–10 Feb) as part of a UK tour. Apphia Campbell's acclaimed play Black is the Color of my Voice (12–17 Feb 2024), inspired by the life of Nina Simone, and featuring many of her most iconic songs performed live, follows the successful singer and civil rights activist as she seeks redemption after the untimely death of her father. Part of a major national tour, it follows sell-out seasons in Shanghai, New York, Edinburgh, and the West End.
Bristol Old Vic also announced more visiting productions for The Weston Studio this autumn, including Bacon (12–16 Sep). This award-winning play by Sophie Swithinbank is an unflinching and unexpectedly humorous look at masculinity, sexuality and power, through the dizzying lens of youth. First developed on the Soho Theatre Writers' Lab, it won the Tony Craze Award in 2018, and was first produced at the Finborough Theatre, London, in 2022, directed by Matthew Iliffe.
This is followed by Project Dictator (30 Oct–4 Nov) from award-winning theatre company Rhum + Clay who visit Bristol Old Vic for the first time. Project Dictator is a beautiful and bonkers clown show about totalitarianism, informed and inspired by conversations with international artists living under authoritarian regimes. 
On 7 Nov, the Studio welcomes the Bristol debut performance of Dugsi Dayz, a brand new British-Somali play written by Sabrina Ali. Following the sold out productions of Muna Knows It All (2021), HOME (2019) and Arawelo (2018), the all-female company Side eYe Productions returns in partnership with London Somali Week Festival with Dugsi Dayz, a comedic adaptation of The Breakfast Club, written by Sabrina Ali.
Nancy concluded:
"We will make a theatre which is for our whole community. Not a passive place but one of activism. Not one voice but many. We will ask questions of ourselves and of Bristol. We invite you to come on in to help us make this building sing with possibility."
Tickets for the Aut/Win 23 season will go on sale to Circle Members from 10am Thu 20 Apr and on General Sale from 10am Thu 27 Apr.
www.bristololdvic.org.uk
 
-ends-
 
For further information, please contact Amanda Adams, Head of Communications 07957 438212 / amanda.adams@bristololdvic.org.uk
 
Images of Nancy Medina and Aut/Win season shows here
 
Nancy photos by Barbara Evripidou
Show artwork by Sarah Tanat-Jones
Bristol Old Vic is the longest continuously running theatre in the UK, and celebrated its 250th anniversary in 2016. The historic playhouse aims to inspire audiences with its own original productions, both at home and on tour, whilst nurturing the next generation of artists, whether that be through their 350-strong Young Company, their many outreach and education projects or their trailblazing artist development programme, Bristol Ferment.
They use their funding to support experiment and innovation, to allow access to their programme for people who would not otherwise encounter it, or be able to afford it, and to keep their extraordinary heritage alive and animated.
On 24 Sep 2018, Bristol Old Vic completed its 2-year multi-million pound redevelopment project, which transformed its front of house space into a warm and welcoming public building for all of Bristol to enjoy, created a new studio theatre and opened up its unique theatrical heritage to the public for the first time.