–
Uninvited Guests and Fuel present
Love Letters
At Home
---
LIMITED TICKETS AVAILABLE
Space is limited in each show in order to maintain the intimacy and the warm atmosphere of the performances, so make sure to book as early as possible so you don't miss out.
---
In response to our desire for connection in an age of distance, Uninvited Guests brings to you a completely digital, wholly personal and wonderfully live experience in Love Letters at Home.
Love Letters invites your words to the stage where they are given a new shape, look you straight in the eye and offer to dance with everyone in the room. In their signature performance style, Uninvited Guests blur distinctions between theatre and social gatherings, creating a performance from your song dedications and the stories attached to them.
Every night is unique to its audience, their memories, their current and past loves or friendships, their emotions laid bare for everyone to witness, acknowledge and support. Dedications are spoken, toasts are made, speeches are given, songs are sung and dances are danced on your behalf and with you.
An antidote to isolation, join us online via Zoom as we raise our glasses to long lost loves and current lovers, to mums and dads, and to absent friends.
Love Letters at Home has been commissioned by First Art, a Creative People and Places project, as part of its Go the Distance remote festival for audiences in Ashfield, Mansfield, Bolsover and North East Derbyshire.
★ ★ ★ ★ ★

You can't help but fall in love with it.

The Guardian
---
About the show
Tech: Love Letters is experienced on Zoom. Download it here. Help and support on how to sign up and use Zoom can be found here.
Pay What You Choose: To make our online work more accessible, we're introducing a flexible pricing scheme for a number of events. Find out more about it here. Prices for this event are: £10 (Open Concession) / £15 (Standard) / £25 (Pay It Forward).
Created by
Uninvited Guests
Jessica Hoffmann
Performer
★ ★ ★ ★ ★

Blowtorches away Britishness and forces you to feel

Time Out
The audience...were involved in sharing love stories, singing along and staring into each other's eyes. Almost everyone wept.

The Financial Times
BOOK
Useful information
Venue: Your Home

PWYC £10 / £15 / £25

Approx. 1 hour 15 mins (no interval)

Ages 12+

Show content and themes vary per show More Info
Access Tip
Love Letters has Captioned performances.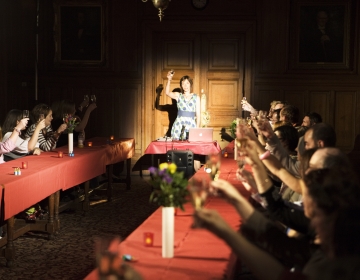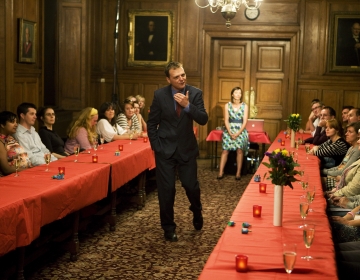 Key Image: Jonathan Bewley | Photography: Murdo McLeod
Overall Love Letters at Home is a positive and uplifting experience. However, it is worth bearing in mind that the show is crafted from the dedications we receive from our audience. Each show is a true reflection of their real lived experience and on occasion sensitive subject matters. If audience members would like to find out more about the contents and themes of their show in advance, please contact Fuel here, who will advise.