–
A Bristol Old Vic production
The Red Lion
When winning means everything, loyalty means nothing
★ ★ ★ ★ ★

This is full throttle theatre
---
When winning means everything, loyalty means nothing.
It's the small-time. The semi-pro. The non-league. In a world removed from the wealth and television cameras, a non-league team are struggling to make ends meet. So, when a gifted young player arrives out of nowhere, it's the opportunity everyone's been waiting for.
For the kit man, Yates, this brilliant player will restore the declining fortunes of the whole team. But the ambitious manager, Kidd, is determined to make him his own…
Exploring issues of trust, loyalty and conflict across generations, this is a new production starring Bristol's Joe Sims (Broadchurch) as Kidd, with actor, screenwriter and former Bristol City FC match-day announcer David Lloyd (Maid Marian and her Merry Men) as Yates and introducing Thomas McGee in his professional stage debut as Jordan.
Offers!
For this show we will be running a special five-a-side offer – when you put four tickets in your basket, a fifth will be added for free.

We will also be running a pie and a pint offer - £20 for 2 Pieminister pies and a 2-pint pitcher (while stocks last) on Saturdays during the show's run!
---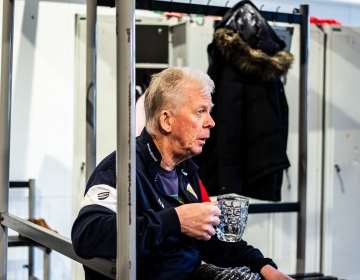 Assistant Director
Lowri Mathias
Lighting Designer
Mike Gunning