"we are all culture. we are all art"
19 Apr 2023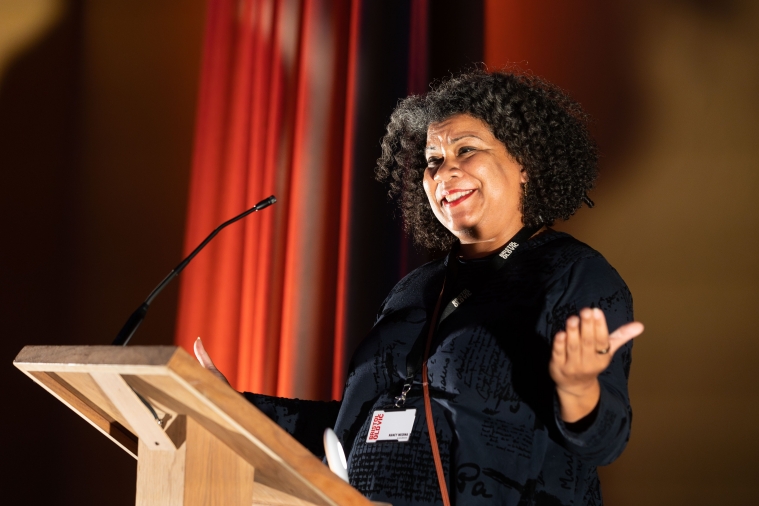 Nancy Medina today unveiled her joyous first season as Artistic Director. Speaking at last night's launch event she outlined her vision for the theatre's future: 
 "The programme of work for Autumn/Winter is my first invitation to Bristol to join me as we work out together what this theatre means to its city and beyond. Charlotte Geeves, our Executive Director, and I hope it reflects our values and our team's intention to create spaces and opportunities for meaningful and celebratory connection.
Each of our productions is about the power in belonging – isolated groups trying to find meaning and purpose – whether that is Kathy and Stella who have few opportunities in life, but make something special together, or Choir Boy's young black boys discovering how to be men in a world that creates more barriers than opportunity with Pharus leading the way in how to be your authentic self; or Starter for Ten's Brian – who is working out if where he comes from is good enough. All full of music and resilience through joy and connectedness. 
This is a season which demonstrates the power and joy in meeting challenges not as individuals, but together. That sense of working together, joy and optimism feeds into our ethos of transforming all of our spaces. We can't do any of this without you. Theatre is for everyone, we are all culture, we are all art. We, as an organization, need to make sure that we platform and create opportunity for the multitude of stories that this city and this nation have to offer.

We will make a theatre which is for our whole community. Not a passive place but one of activism. Not one voice but many. We will ask questions of ourselves and of Bristol. We invite you to come on in to help us make this building sing with possibility." 
Nancy Medina, Artistic Director, Bristol Old Vic
Find out more about Nancy's first season here
Read the full press release here